Apple has recently announced that its new version of iPad i.e., iPad3 is going to come in the market on March 7th 2012. The event is hosted in San Francisco on March 7th, 10 AM local time (PT) and invitations where send to all reporters and bloggers.
All though Apple didn't announce anything about the iPad3, however many bloggers say that this is definitely going to be lot different and more advanced to the previous versions of iPad's. Following are some significant features of iPad3.
Features of Apple iPad3:
The latest version of iPad is said to have a lot better screen resolution which is 2048×1536 pixels almost double to present version of iPad. With a better a screen resolution it's quite evident that the display on the screen for games, videos, e-books and photos is much high.
The next significant feature is the camera, although the present iPad2 has a very good camera, it's believed that the front camera in iPad3 is going to be even better, which improves the quality of face time voice chat.
The latest processor is the A5 processor, but iPad3 is going to come with even latest processor i.e., A6 processor which has better graphics, speed and efficiency.
iPad 2 came with 3G, there are some rumors saying that iPad3 is going to feature 4G with a price of over $130 to the Wi-Fi version. With a big hit of Siri technology on iPhone 4S, now Apple is thinking to introduce that feature in iPad3 too.
One thing that isn't changing much is the screen size which is just 9.7 inch pretty similar to the current version of iPad.
On the day of release iPad3 is going to come in three versions as 16GB, 32 GB, and 64GB.
No price details about iPad3 were disclosed but it's believed that it's going to be over $500 and approximately $80 more than the current version iPad.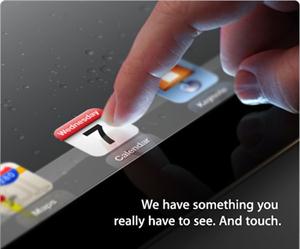 Although no pictures were revealed of iPad3 but the invitation has a part of iPad3 as a background with a message saying "We have something you really have to see. And touch.", and with a finger pointed over the Calendar app, which has been set to the venue date i.e., Wednesday, March 7, 2012.
So if you're planning to buy iPad2 just wait for another 1 week and go for iPad3 and keep yourself updated with the latest gadgets in the world.